Image caption MPs will have half an hour to fill out the ballot paper MPs are voting on eight different proposals for the future of Brexit as they try and seek a way forward. Options they are considering include leaving without a deal, a customs union and a confirmatory referendum. Speaker John Bercow will announce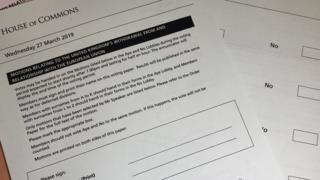 MPs are voting on eight different proposals for the future of Brexit as they try and seek a way forward.
Options they are considering include leaving without a deal, a customs union and a confirmatory referendum.
Speaker John Bercow will announce the results later after MPs took control of the Commons timetable.
Theresa May has promised to stand down as prime minister if her own deal is approved, prompting several Tory Brexiteers to say they will back it.
The prime minister is still trying to drum up support for her withdrawal agreement despite it being voted down by a large margin twice.
It comes as she announces her intention to quit as PM if Tory MPs back her deal.
The government is seeking the support of MPs for the Commons to convene on Friday, if necessary, amid reports a third vote on the PM's deal could be held then.
But Mr Bercow reiterated his earlier warnings that the PM's deal could not come back for a vote if it had not significantly changed.
He said the government "should not seek to circumvent my ruling" by introducing procedures that could reverse his judgement.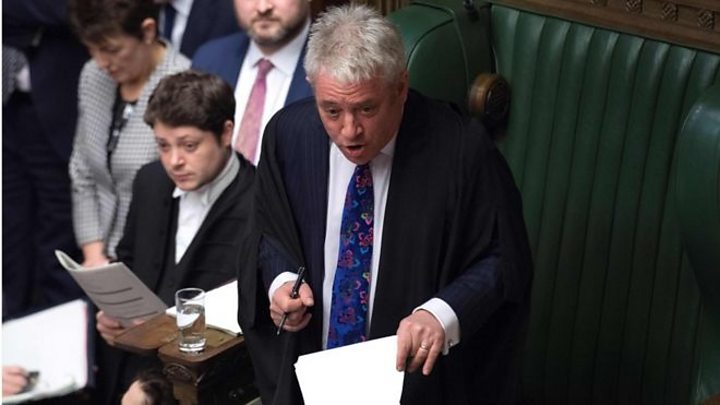 But a Downing Street spokesman said there had been a "significant development" at the summit in Brussels last week, after Mrs May agreed "extra reassurances" over the Irish backstop with the EU, and the date of exit had changed.
MPs have taken control of the House from the government for several hours as they attempt to find a majority for the next steps in the Brexit process.
The government ordered their MPs to vote against a business motion securing the indicative votes for this evening, but lost by 331 to 287.
Conservative backbencher Sir Oliver Letwin, whose cross-party proposal ushered in today's debate, said the only way leaving the EU with no-deal can be prevented is by crystallising an alternative majority and trying to carry it forward.
He said that if MPs supported the prime minister's deal in another meaningful vote this would be "the easy route".
But he added that he "profoundly hopes" that if on Monday there is a majority view in favour of a particular position, that the government will say that it will carry that forward.
Bercow's intervention versus May's deal
By Ben Wright, BBC political correspondent
Never afraid of stoking controversy, the Speaker has again infuriated many Tory MPs with his latest surprise pronouncement to the Commons.
Just as it seemed the government was poised to try and get its Brexit deal through again, John Bercow took it upon himself to tick ministers off before they had even tried.
Why? Because last week he ruled the deal could not be brought back to the Commons for a third time without "substantial" changes.
No 10 will only bring the deal back for a third vote if it thinks it could pass. That probably requires DUP backing and a guarantee some Labour MPs will vote for it too.
As it stands, there isn't yet a majority for the deal, but the mood is shifting fast.
What options are MPs voting on?
Groups have been putting forward different options for the UK's future relationship with the EU, with several based on the assumption Mrs May's withdrawal agreement with the EU will be approved – albeit with changes to the controversial Northern Ireland backstop.
The Speaker of the House, John Bercow, has chosen eight to be voted on by MPs later this evening.
They are:
No-deal Brexit – Leave the EU on 12 April without a deal – Tory MP John Baron
Common Market 2.0 – The UK joins the European Economic Area and negotiates a temporary customs union until alternative arrangements can be found – Tory MP Nick Boles
EFTA/EEA – Similar to Common Market 2.0 but rejects any kind of customs union with the EU and says the Irish backstop must be replaced with alternative arrangements – Tory MP George Eustice
Customs union – Calls for the UK to negotiate a permanent customs union with the EU after Brexit – Tory MP Ken Clarke
Labour's alternative plan – A customs union with the EU and "close alignment" with the single market – Labour leader Jeremy Corbyn
Revoke Article 50 – Cancel Brexit if the UK gets within days of leaving without a deal. MPs would be asked to vote on a no-deal exit and if they rejected that, Article 50 would be revoked – SNP MP Joanna Cherry
Confirmatory public vote – Parliament cannot ratify or implement any agreement on the UK's withdrawal and future relationship "unless and until they have been approved by the people of the UK in a confirmatory public ballot" – Labour MP Margaret Beckett
Malthouse Plan B – The UK makes its budgetary contributions to the EU to the end of 2020 and agrees with the EU a period of two years in which UK goods have full access to the EU – Tory MP Marcus Fysh
Read more on the Brexit options MPs are voting on
How will the process work?
After a four-hour debate on each proposal, MPs were given a piece of paper listing the options, and will have to mark each one with a "yes" or "no".
MPs will use both lobbies for completing the indicative vote ballots.
The process is likely to continue on Monday as MPs seek to whittle down options which could command majority support in Parliament.
The government has until 12 April to propose a different way forward to the EU if it cannot get the current agreement through Parliament.
Timetable for Wednesday in Parliament
Now: MPs vote with paper and pen for their preferences
19:30: Debate on statutory instrument (SI) bringing Brexit delay into law
21:00: Vote on SI
21:30: The Speaker announces the results of the indicative votes – though he could announce them earlier during SI debate
All times approx
How are MPs likely to vote?
Conservative MPs will be given a free vote, meaning they will be able to support or reject any proposal without pressure from party whips. Cabinet ministers will be abstaining.
The decision followed warnings that more than a dozen ministers might quit if they were told they had to follow party orders.
Labour MPs are being whipped to support the party's own proposal, as well as Mr Clarke's motion for a customs union and Mr Bole's option of Common Market 2.0.
But after confusion earlier on the party's position, shadow Brexit secretary Keir Starmer confirmed Labour would also back Mrs Beckett's proposal for any deal to face a confirmatory public ballot.
Mr Starmer told the Commons any deal "needs further democratic approval" before being enacted.
The DUP's leader in Westminster, Nigel Dodds, co-signed two proposals – one asking for the result of the EU referendum in 2016 to be respected and another backing the Malthouse Compromise.
What is the PM's next move?
Leader of the House Andrea Leadsom said there was a "real possibility" the PM's deal could come back for a vote on Thursday or Friday.
Friday is the day written into law for the UK to leave the EU, but later MPs will vote on a statutory instrument to confirm a delay – with the earliest Brexit is likely to happen now being 12 April.
The BBC's political editor Laura Kuenssberg said some leading Brexiteers were "tiptoeing their way" towards supporting her plan.
But many want to confirm the support of the Democratic Unionist Party – the 10 Northern Irish MPs that give Mrs May a majority in the Commons – before they agree, or at least appeal to them to abstain from the vote.
The party has urged Tory MPs to "stand firm" in their opposition unless there were "significant changes" – namely to the insurance policy to prevent a hard border returning to the island of Ireland, known as the backstop.


[ad_2]

Source link