Media playback is unsupported on your device Media captionBoris Johnson: "Our scientists think containment is extremely unlikely to work on its own" People who show "even minor" signs of respiratory tract infections or a fever will soon be told to self-isolate in an effort to tackle the coronavirus outbreak. The UK government's chief medical adviser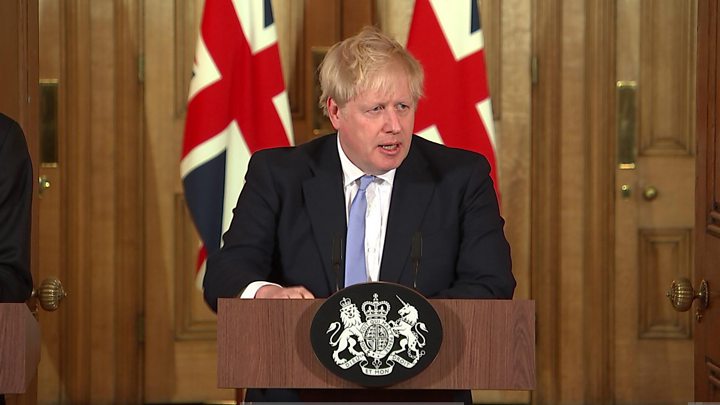 People who show "even minor" signs of respiratory tract infections or a fever will soon be told to self-isolate in an effort to tackle the coronavirus outbreak.
The UK government's chief medical adviser said the change in advice could happen within the next 10 to 14 days.
Five people have now died from coronavirus in the UK.
London mayoral candidate Rory Stewart called the government's measures "half-hearted".
There were 319 confirmed cases as of 09:00 GMT on Monday, a rise of 46 since the same time on Sunday.
People will be asked to self-isolate for seven days after showing mild symptoms under the new approach, the UK government's chief medical adviser Prof Chris Whitty said.
It comes as two more deaths were announced in the UK on Monday afternoon.
Both patients, who were in hospital in Wolverhampton and Epsom respectively, were in their 70s and had underlying health conditions.
---
A European Union expert said the UK had only a "few days" to implement measures to prevent an outbreak like Italy's, which is the worst outside China with 7,375 confirmed cases and 366 deaths.
Mr Stewart, a former Conservative minister, said the government should act "much more aggressively" – but Prime Minister Boris Johnson said the government needs to "take the right decisions at the right time".
The UK is currently in the first phase – "containment" – of the government's four-part plan.
Mr Johnson said the government is preparing to move to the second phase – "delay" – which will seek to push back the peak of the epidemic to the summer, when there will be less pressure on the NHS.
Prof Whitty said introducing measures "too early" could become problematic as "anything we do, we have got to be able to sustain".
---
This is very much the first step in a gradual and phased approach to reducing the impact coronavirus will have in the UK.
A significant outbreak is on its way but the government and its advisers believe they can limit its impact by taking the right steps at the right time.
We know the first step is to get people with even relatively moderate flu-like symptoms to self-isolate. To date only those who have been to an affected country or who had had close contact with an infected person had been asked to do this.
This will be followed by further advice later this week that is likely to be focused on protecting the most vulnerable groups – the elderly and those with pre-existing health conditions. Reducing social contact will form part of that.
But drastic steps like closing schools and banning public gatherings are not going to happen in the immediate future.
---
At present, the proportion of symptoms caused by coronavirus as opposed to other respiratory tract infections are "very low", he said. But he added that that will "shift" over time.
The forthcoming change in medical advice will coincide with the tail end of seasonal flu, which is why anyone who does develop a heavy cold, cough or temperature will be advised to stay at home.
The government's scientific advisory group for emergencies (Sage) is due to meet on Tuesday, followed by another meeting of the emergency committee, Cobra, on Wednesday.
Meanwhile, US authorities are planning to fly home Britons on board the virus-hit Grand Princess cruise ship on Tuesday, the Foreign Office said. There were 142 British people on the ship, which spent five days stranded off the coast.
Are you affected by the Coronavirus outbreak? Tell us about your concerns. Email haveyoursay@bbc.co.uk.
Please include a contact number if you are willing to speak to a BBC journalist. You can also contact us in the following ways:


[ad_2]

Source link