Intel double-whammy: kit festooned with new Xeons Intel's Optane DC persistent memory DIMM Fujitsu has refreshed its entire x86 server portfolio, adding support for Optane DC persistent (aka non-volatile) memory from Intel, officially launched last night. Optane DC memory, based on 3D XPoint tech, promises to deliver speeds comparable to DRAM, but capacities closer to
Intel double-whammy: kit festooned with new Xeons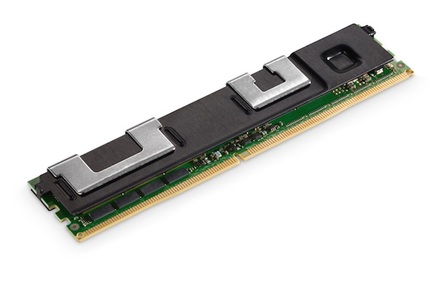 Intel's Optane DC persistent memory DIMM
Fujitsu has refreshed its entire x86 server portfolio, adding support for Optane DC persistent (aka non-volatile) memory from Intel, officially launched last night.
Optane DC memory, based on 3D XPoint tech, promises to deliver speeds comparable to DRAM, but capacities closer to SSDs. It will also keep the data if the machine is switched off or restarted – something that could revolutionise tiered storage architectures, among other things.
According to researchers at UC San Diego, early benchmarking of the memory units looks hopeful, although the technology still has plenty of kinks to iron out.
As Optane memory is only compatible with the Cascade Lake CPUs – also launched yesterday – Fujitsu has actually bundled two announcements in one: although individual parts are not mentioned, support for Optane NVDIMMs implies that the company has equipped its servers with the second-generation Xeon SP CPUs. And why not? The chips are priced almost exactly the same as the first-generation SP silicon.
But back to Optane DC: these memory sticks are based on technology developed in collaboration between Intel and memory specialist Micron, and launched to much fanfare in 2015.
3D XPoint was initially applied to storage devices to create the Optane SSD range – dubbed the "ruler" for its unusual, elongated form factor, which enabled system designers to cram a petabyte's worth of flash into a single rack unit at a time when this kind of thing was somewhat impressive.
Unlike Optane SSDs, Optane DC memory fits into the DIMM slots, taking advantage of the fastest interconnect available on any server system. The sticks come in capacities of 128GB to 512GB per module, whereas traditional DRAM currently maxes out at 16GB.
Fujitsu is adding Optane DC memory as an optional extra for its M5 generation of Primergy, as well as the new Primequest servers. The company wants customers to use NVDIMMs as a caching layer, improving the speed of data exchange between CPUs and storage.
Fujitsu has tested the memory internally, and said its benchmarks on two-socket Primergy RX2540 M5 using Optane DC have broken two records in the VMware VMmark test, which measures virtualization performance. The same server, along with the Primergy RX4770 M5, set further records on the SPECjbb2015 benchmark, which measures Java performance.
"Enterprises used to view the need to manage and store vast data lakes as an inconvenience, but now their huge potential is being recognized – it just needs to be unlocked," said Olivier Delachapelle, head of category management at Fujitsu EMEIA.
"With breakthrough technology that brings these huge data sets closer to server processors, we can turbo-charge the time to insight, ensuring that our customers can derive more value than ever from their accumulated data." ®
Sponsored:
Becoming a Pragmatic Security Leader
[ad_2]

Source link