Image copyright David Luther Thomas / Geograph Image caption Twenty firefighters attended the early-hours rescue on Brecon promenade Twenty firefighters have rescued a woman who was clinging to a branch in a fast-flowing river following flooding. Mid and West Wales Fire and Rescue Service was called to Brecon promenade, Powys, at 03:00 GMT on Thursday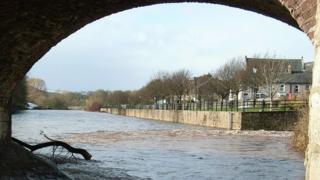 Twenty firefighters have rescued a woman who was clinging to a branch in a fast-flowing river following flooding.
Mid and West Wales Fire and Rescue Service was called to Brecon promenade, Powys, at 03:00 GMT on Thursday after the woman herself raised the alarm.
The Welsh Ambulance Service said she was taken to hospital.
A yellow warning for rain is in force until 14:00 GMT on Thursday, with forecasters saying a month's rain could fall in north Wales over 24 hours.
North Wales Fire and Rescue Service said driving conditions were poor and advised road users to take extra care.
They warned people not to drive through flood water and said they should find an alternative way if their route is blocked.
Thursday's warning covers 19 of Wales' 22 local authority areas, and some areas in the north could see up to 100mm (4in) of rain.
At Pentre, in the Rhondda valley, firefighters attended Pleasant Street to reports of three houses being flooded.
A Rhondda Cynon Taf council spokesman said it had engineers on site at its Clydach Vale headquarters examining any potential risk from a nearby landslide.
Some staff have been moved out of their offices, although there has not been a full evacuation.
Bridgend council engineers are checking 41 former coal mining sites in the Ogmore, Garw and Llynfi valleys to ensure they are safe.
The Coal Authority confirmed it was also checking sites they might have responsibility for.
Labour leader Jeremy Corbyn is to visit affected areas on Thursday, and has criticised the UK government's response as "wholly inadequate".
Mr Corbyn said Boris Johnson was showing his "true colours", adding: "If the prime minister is not campaigning for votes in a general election he simply does not care about helping communities affected by flooding."
Plaid Cymru leader Adam Price also questioned why Mr Johnson had not convened Cobra, the UK government's emergency response committee.
In response, a UK government spokesman said flood defences and the response to flooding were devolved to the Welsh Government.
"The UK government has communicated with emergency services, local authorities and the Welsh Government – including the first minister – throughout the past week and we are ready to provide assistance, where possible, should additional help be required," he said.
A Welsh Government summit was held on Wednesday with councils and other agencies to look at the problems caused by flooding.
First Minister Mark Drakeford told BBC Breakfast: "This is a genuine emergency and we are working to mobilise every bit of help we can for families."
Meanwhile, the Plaid Cymru leader of Carmarthenshire council has accused the Welsh Government of "favouritism" when it comes to dealing with the aftermath of flooding.
Emlyn Dole told Newyddion 9 the Labour-led Welsh Government had "reacted in the areas that they are strongest", adding: "So far there has been no reaction to what happened with Storm Callum 18 months ago whilst there has been a reaction straightaway to what has happened this time."
He continued: "Our people had the same serious situation last time – but there wasn't a penny to help."
A Welsh Government spokesman said the impact and severity of storms Ciara and Dennis had been unprecedented, adding: "We will always ensure we do everything we can to support everyone affected and will continue to do so."
Natural Resources Wales said 163mm (6.5in) of rain had fallen in the 48 hours between lunchtime on Friday and Sunday and described the scale of flooding as "unprecedented".
It said engineers had been checking flood defences and carrying out urgent repairs and clearing blockages, and were prepared for further rain following weeks of bad weather.
Sandbags have been dropped in Llanhilleth and Cwm in Blaenau Gwent, with the council saying workers were prepared to clear fallen trees and roads hit by recent flooding.
The Prince of Wales is due to visit Pontypridd on Friday to speak to home owners who were forced to leave their properties when the floods hit – and the rescuers who saved them from the rising waters.
Hollywood actor Michael Sheen, from Port Talbot, has launched a crowdfunding campaign to help flooded communities.
"The devastation that Storm Dennis has left behind is very real and thousands of people across the UK have lost everything," he said.
Water bottle stations were set up in Monmouth after fears hundreds of homes could be left without supply after Welsh Water's treatment site was flooded.
On Wednesday, engineers gained access to the Mayhill site to access the damage.
Managing director Peter Perry said engineers would be working "around the clock" to fix the damage, but it could take up to 48 hours to get the plant up and running.
People have been warned not to risk their safety during the clean-up.
South Wales Fire and Rescue Service said some people had been using gas-powered heaters to dry out their flooded homes and businesses, which could cause carbon monoxide poisoning.
Fire chiefs also confirmed that a woman was rescued from from the roof of a submerged car on the Wales/England border near Chepstow on Tuesday.
Mark Smith, 51, told the BBC's Victoria Derbyshire show how he waded into ­floodwater on the banks of the River Wye to rescue the woman who had been trapped for 12 hours near St Briavels in the Forest of Dean.
'Dirt, damage and despair'
BBC reporter Nicky Smith reports from Treforest
I have spent the morning on Treforest Industrial Estate and what I witnessed was dirt, damage and despair.
In the businesses I spoke to, they are only just beginning to understand the financial cost of Storm Dennis and, in each one I stopped at, they talked of it running to thousands of pounds.
But in all the mess, there is one very clear message. They will do everything in their power to stay open for business.
Harry Singh, who owns the Welsh Shop which stores its stock here, showed me piles of merchandise ruined by the flood water – he believes he has lost up to £400,000 worth of stock.
The impact is even worse as this is one of their busiest times, in the middle of the Six Nations rugby championship, and he has not been able to fulfil online orders.
A couple whose home was damaged and a roof was swept into their garden during the floods, told me they would not be able to return home for up to 18 months.
Paul Cooper said they felt a bit lost following the news and, like many others, hoped for good news soon.
'It could be months before people can go home'
BBC reporter Matt Murray in Pontypridd and Nantgarw
Roads are now crowded with skips, tractors and trailers clearing debris, rubbish, and cars that have been written off.
There's a realisation by those affected just how life-changing this will be for them.
Self-employed builder Lynn Davies had just finished refurbishing his home when it was flooded and all his tools and van, which he needs to work, were also ruined.
He is now living in a hotel with his family and dogs and says it may be five months before they can return home.
There's also anger here as people feel they were alerted too late to the risk of the flood waters hitting their homes.
'Community spirit in action'
BBC reporter Rhys Williams in Ystradgynlais
The Teddy Bear Bridge – so-called because miners teetering across the previous rickety bridge to get to work looked like teddy bears – is one of the victims of the heavy rain in Ystradgynlais.
The more modern bridge is still standing, but there's a huge crack in the wall and the structure has buckled considerably.
The storm has also caused flooding for residents in Ystalyfera, where the community is banding together and reminding people of the "good old days" when everyone pitched in together to help out.
On Wednesday residents were in their third day of clearing out the downstairs of their homes into bags to be collected by the council.
Lenny Jenkins has spent the day clearing out his home, ruined by the water. Like the rest of his street, he says has no insurance as no company will "go near us."
Most of his neighbours have been re-housed by the council. He's worried the community in the area is going to suffer as people leave the street.
[ad_2]

Source link