Media playback is unsupported on your device Media captionAmber Rudd: "80-90% of government time is going into preparing for no-deal" Amber Rudd has quit Boris Johnson's cabinet, with an outspoken attack on the government's approach to Brexit. The ex-work and pensions secretary said the government was having no "formal negotiations" with the EU about a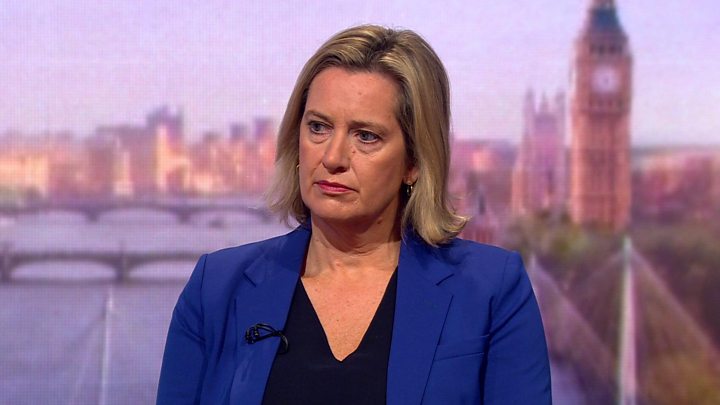 Amber Rudd has quit Boris Johnson's cabinet, with an outspoken attack on the government's approach to Brexit.
The ex-work and pensions secretary said the government was having no "formal negotiations" with the EU about a new deal, only "conversations".
Instead, 80-90% of Brexit work was spent preparing for an "inferior" no-deal option, she said.
But Chancellor Sajid Javid said ministers were "straining every sinew" to get a deal with the EU.
He told the BBC's Andrew Marr Show a "tremendous amount of effort" had gone into securing a revised deal.
He added that preparations for a no-deal scenario would "concentrate minds" in Europe regarding working towards a new agreement.
Downing Street says environment minister Therese Coffey will replace Ms Rudd as work and pensions secretary.
Ms Rudd told the Sunday Times she would be considering whether to stand as an independent Conservative should there be an general election.
In her resignation letter to the prime minister, Ms Rudd said: "I joined your cabinet in good faith: accepting that 'No Deal' had to be on the table, because it was the means by which we would have the best chance of achieving a new deal to leave on 31 October.
"However I no longer believe leaving with a deal is the government's main objective."
She called the PM's decision to expel 21 MPs from the parliamentary Conservative party an "act of political vandalism", after her former colleagues rebelled last week over a bill designed to avoid a no-deal Brexit.
"If we become a party which has no place for the type of moderates that I am, the centre-right Conservatives, then we will not win [a general election]."
She told the BBC there was "very little evidence" the government would get a new Brexit deal.
She said "proper discussions about policy" had not been taking place, suggesting senior ministers had limited involvement in the PM's decisions.
Asked who was running the country, if not the cabinet, she replied: "If I knew that, I would perhaps have had further conversations with the prime minister, or them."
However, Mr Javid said there had been "progress" in talks with the EU about making changes to former PM Theresa May's Brexit deal, which was rejected three times by the House of Commons.
He said the government has "many new ideas" for proposals to break the deadlock over the contentious backstop plan in the deal aiming to preserve seamless border on the island of Ireland.
However he said it would be "madness" to talk through the details of the government's proposals openly.
"Anyone who understands how negotiation works, you would not discuss those in public," he added. The MP for Hastings and Rye, who supported Remain in the 2016 referendum, has resigned the Tory whip – meaning she will remain an MP but no longer sit as part of the Conservative party in Parliament.
What has the reaction been to her resignation?
Former Foreign Secretary Jeremy Hunt said Ms Rudd's departure was "desperately sad news", describing her as "one of the most principled and capable ministers I've worked with".
Shadow Brexit secretary Sir Keir Starmer tweeted that her departure showed Mr Johnson's government was "falling apart".
Labour Party chair Ian Lavery said the resignation was a sign that "no one trusts" Mr Johnson. "The prime minister has run out of authority in record time and his Brexit plan has been exposed as a sham," he said.
SNP Westminster leader Ian Blackford called on the prime minister to resign, arguing he had "no support or credibility left".
But Foreign Secretary Dominic Raab said Mr Johnson had made clear to all his cabinet ministers they needed to support his policy of leaving the EU by 31 October, in all circumstances.
"We all accepted that, and I think the prime minister was right to restore some discipline – and I think he's right to expect it from his top team," he told Sky News.
What is the government expected to do next?
PM Boris Johnson is reportedly considering defying a new law aimed at forcing him to seek an extension to the Brexit deadline if MPs fail to approve either a new deal or a no-deal exit by 19 October.
According to the Sunday Telegraph, Downing Street says Mr Johnson "does not share the rebel interpretation" of the new law – expected to gain royal assent next week. The bill was drawn up by cross-party MPs, including the 21 Tory rebels who have since been ousted from the parliamentary party.
A senior No 10 source told The Sunday Times: "If there isn't a deal by the 18 [October] we will sabotage the extension."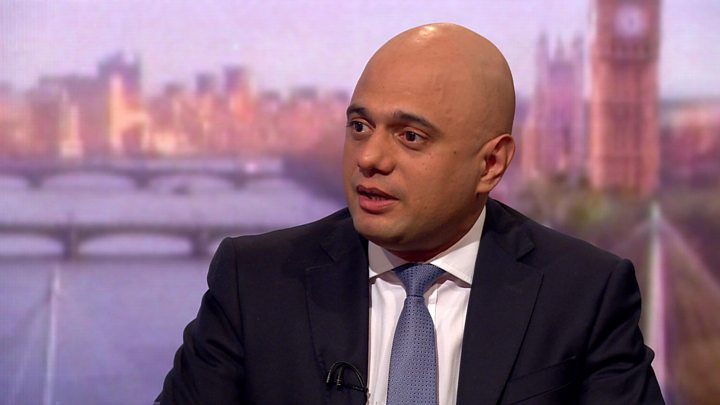 Mr Javid said the government would obey the law, but the prime minister "absolutely will not ask" for a further delay at an EU summit in mid-October.
"We will obey all laws because all governments should obey laws absolutely, but you will have to wait and see what happens then."
On Sunday, Mr Raab told Sky News the government would "look very carefully" at its "interpretation" of the legislation.
Election moves continue
Mr Johnson has written in the Mail on Sunday and Sunday Express that on Monday he will offer Labour leader Jeremy Corbyn "one last chance" to agree to an early election.
Opposition parties have agreed not to back his demand for a general election before the EU summit in mid-October, and say they will vote against the government's proposal at a vote on Monday.
If Mr Corbyn refuses, Mr Johnson said "this government will simply carry on".
In other developments:
The government is planning – in a breach of convention – to stand a candidate against the Speaker of the Commons, John Bercow, at the next election for allowing rebel MPs to take control of the Parliamentary timetable.
French Foreign Minister Jean-Yves Le Drian said France would not be able to support another Brexit delay "in the current circumstances"
Asked to rule out a possible pact with The Brexit Party at a future election, Mr Javid said the Tories "don't need an electoral alliance with anyone"
Who is Amber Rudd?
The 56-year old has been MP for Hastings and Rye in East Sussex since 2010
Her majority in the 2017 election was just 346 votes
In the 2016 referendum, she was a Remain supporter – her brother helped fund the campaign
Ms Rudd was appointed home secretary in July 2016
She resigned as home secretary in 2018 over the Windrush scandal, saying she "inadvertently misled" MPs
But an inquiry concluded she was let down by her officials and she returned to the cabinet as work and pensions secretary months later
Ms Rudd was married for five years to the late journalist and writer AA Gill
An Edinburgh University graduate, she previously worked in banking and recruitment
She was credited as a consultant on the 1994 hit film Four Weddings and a Funeral
In the 2016 Tory leadership debates, she described Boris Johnson as the "life and soul of the party but not the man you want driving you home at the end of the evening".


[ad_2]

Source link