Image copyright Kelvin Boyes/Press Eye Image caption First Minister Arlene Foster and Deputy First Minister Michelle O'Neill met Taoiseach Micheál Martin ahead of the talks in Dublin The taoiseach and First Minister Arlene Foster have described the first North South Ministerial Council meeting in more than three years as "constructive" and "warm". Micheál Martin said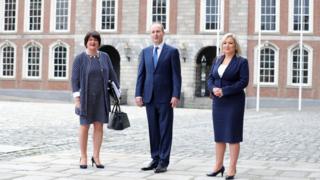 The taoiseach and First Minister Arlene Foster have described the first North South Ministerial Council meeting in more than three years as "constructive" and "warm".
Micheál Martin said the parties discussed the preparedness for Brexit, as the UK and Republic of Ireland move "into a critical phase".
Mrs Foster said Covid-19 was at the forefront of the meeting.
The council did not sit during the suspension of Stormont.
Speaking after the meeting, which was also attended by Deputy First Minister Michelle O'Neill and Tánaiste (deputy prime minister) Leo Varadkar, Mr Martin said they had a wide-ranging discussion on a raft of issues, including climate and infrastructure.
"It was a warm meeting, it was a meeting in which a wide array of views were expressed. North-South co-operation is a key priority for our government," he said.
"It was extensive and constructive and we had a particularly good conversation about Covid-19."
Mrs Foster said that collaboration north, south, east and west, will be "fundamental to economic renewal" in both jurisdictions.
Asked about the different travel regimes in place on both sides of the border with regard to Covid-19, Mr Martin said the key is testing and contact tracing and keeping pressure on the virus wherever it emerges.
"We're very possessed of the idea that we need to stay as aligned as much as we can," he said.
He added that the chief medical officers in the Republic of Ireland and Northern Ireland are working well together.
"We noted that on the island, the level of community transmission has been brought down to low levels and we hope to keep it there."
The Republic of Ireland has a so-called "green list" of 15 nations, from which travellers entering the country do not have to self-isolate for 14 days, but Northern Ireland has a list of 58 such countries.
In the Dáil (Irish parliament) this week, Mr Martin said the Republic of Ireland had "much stricter" travel guidance than Northern Ireland.
Mrs Foster said she would much prefer people from Northern Ireland to have a "staycation" this year, and people should acknowledge that they may have to quarantine if they are returning from abroad.
"I do regret that some people who were in Spain had to quarantine when they came home as I know the impact that will have in terms of their jobs and families," she added.
"But our primary purpose it to protect the people of Northern Ireland and keep the virus to a low level."
Meanwhile, Ms O'Neill said that "time is running out" on Brexit, and that people in Northern Ireland urgently need clarity about what the outcome is going to be.
"We're at the eleventh hour … and what we have is a situation where businesses in the north and citizens in the north are still confused about what actually is going to be the outcome, so what we need is certainty and clarity.
"We have to have the [Irish] protocol implemented in full – that gives us protection and recognises our unique position in the north of Ireland."
The meeting comes after a tumultuous first month in office for Mr Martin, who was elected taoiseach on the last Saturday of June as the head of a coalition that included his Fianna Fáil party, Fine Gael and the Greens.
The North South Ministerial meeting started with Arlene Foster and Michelle O'Neill offering the new coalition partners in the Republic advice on how to make power sharing work.
It got a good laugh, I am told.
There then followed a frank exchange of views on Brexit, discussed implications for businesses in Northern Ireland.
There were mixed views on the Irish protocol as expected and concern was expressed about putting it in place before the deadline at the end of the transition period.
On the Covid-19 cross border challenge, both health ministers agreed to work on a plan to share information on international travellers to ensure they can be monitored in both jurisdictions.
The bigger headache of the gap in their respective travel 'green lists' of approved countries is being left to the British Irish Council to resolve, when the UK government will be at the table.
And we are told it could be a Zoom call.
The first and deputy first ministers appeared at a press conference at the meeting in Dublin Castle for the first time since the funeral of veteran republican Bobby Storey.
They have not shared a press platform since Ms O'Neill attended the funeral of Mr Storey on 30 June.
The north Belfast man was considered the head of intelligence of the IRA for a period from the mid-1990s and was named as such under parliamentary privilege.
Ms O'Neill was among hundreds of mourners at the service in west Belfast in spite of restrictions on numbers of people allowed to gather together.
Mrs Foster claimed that damaged Ms O'Neill's credibility in delivering public health messages about the pandemic.
Ms O'Neill has stood by her decision to go to the funeral but did apologise to families bereaved during lockdown for any hurt caused by scenes of hundreds of people lining the route.
What is the North South Ministerial Council?
It is one of the institutions set up under the Good Friday Agreement, the peace accord that is widely seen as marking the effective end of Northern Ireland's Troubles.
The council is the main body for cross-border co-operation between the governments of Northern Ireland and the Republic of Ireland.
It is attended by ministers from both sides of the border who oversee joint working in areas such as trade, food safety and agriculture.
It has not met since November 2016 because Northern Ireland's power-sharing government was suspended until January this year.
[ad_2]

Source link