Image copyright Getty Images Image caption Weisz was nominated for her role in The Favourite SPOILER ALERT: This story is being updated live and will include the latest news from the Bafta ceremony, which runs from 19:00 GMT to 21:30 GMT. It is being broadcast on BBC One from 21:00 until 23:00. So please stop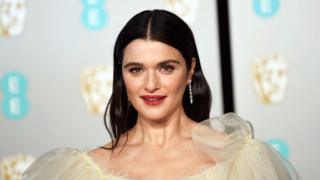 SPOILER ALERT: This story is being updated live and will include the latest news from the Bafta ceremony, which runs from 19:00 GMT to 21:30 GMT.
It is being broadcast on BBC One from 21:00 until 23:00. So please stop reading if you don't want to know the winners in real time!
The Favourite has won four awards so far including outstanding British film.
Rachel Weisz won best supporting actress. The film also won for production design and hair/make-up.
Yorgos Lanthimos, the film's director, said of the outstanding film award: "It's a great honour… this film took 20 years to make – I contributed to the last 10."
He also thanked actresses Olivia Colman, Emma Stone and Rachel Weisz saying: "Of course the three leading ladies that I couldn't be more proud of."
Spike Lee's BlacKkKlansman won best adapted screenplay.
"Brooklyn's in the house!" he yelled triumphantly as he collected his prize.
Letitia Wright gave an emotional speech as she picked up the Bafta rising star award.
"A few years ago I saw myself in a deep state of depression and I wanted to quit acting.
"The only thing that pretty much pulled me out of that was God, my belief, my faith and my family and an email from Bafta saying they wanted me to be a part of the Bafta Breakthrough Brits, and I was like 'let me try again'."
Other winners included Spider-Man: Into The Spider-verse, which won best animated film and Roughhouse, which won British short animation.
Best British short film was 73 Cows, while Vice won best editing.
Bohemian Rhapsody won best sound.
The Favourite, which stars Olivia Colman, Emma Stone and Rachel Weisz, led the race with 12 nominations.
The ceremony, at London's Royal Albert Hall, is being hosted by Joanna Lumley for the second consecutive year.
Bohemian Rhapsody, A Star Is Born, Roma and First Man, each have seven nods.
The ceremony began at 19:00 GMT.
The Baftas are often a good indicator of who will go on to awards glory at the Oscars – which are being held this year on Sunday 24 February.
The Oscars have decided to not have a host this year after Kevin Hart stepped down following a controversy over homophobic tweets.
Lumley joked: "Thank goodness Bafta has a host. But that's probably just down to the fact I'm not on Twitter."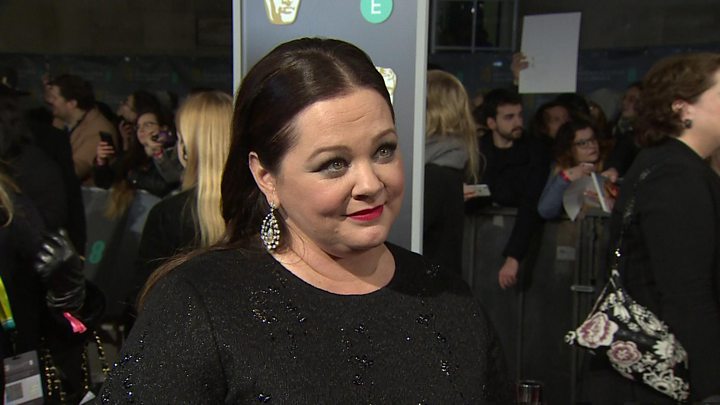 Last year, the winners of the acting categories – Frances McDormand, Gary Oldman, Allison Janney and Sam Rockwell – were exactly the same at the Baftas and the Oscars.
However, the Baftas are historically more likely to reward British talent than the Academy Awards, which could mean wins for Colman and Richard E Grant.
They are strong contenders for best actress and best supporting actor respectively, although neither are the favourite in their category for next month's Academy Awards.
Weisz, Steve Coogan, Christian Bale and Claire Foy are the other British acting nominees.
The Favourite is the only production to be up for both best film and outstanding British film.
Weisz told the BBC: "It was very exciting to work with the two goddesses that are Olivia Colman and Emma Stone.
"It was a true ensemble so it's lovely that all three of us have been recognised here tonight (Weisz, Colman and Stone). Emma's not here, she's filming… but she's an honorary Brit, her English accent is better than mine!"
Speaking of the film's playfulness and wit, she said: "It was Yorgos Lanthimos (the director) – the tone was down to him. I'm just a member of his orchestra."
Lady Gaga, who appears opposite Cooper in A Star Is Born, will not be attending as the ceremony clashes with the Grammys in the US.
One person who definitely won't be recognised among the winners is Bohemian Rhapsody director Bryan Singer.
His name has been removed from the film's Bafta nomination due to allegations he sexually abused under-age boys.
Singer denies the allegations, which he calls a "homophobic smear".
Speaking on the red carpet, Queen's Brian May said of the Singer controversy: "It's nothing to do with us. He hasn't been the director for a long time. He was sacked for very good reason… not by us, by Fox so it's a very arm's-length thing for us.
"The only reason he's on the movie is his guild forced Fox to do this… technically, really, he's not the director of the movie. That's just life.
"Everybody who had something to do with the movie should be very proud."
Follow us on Facebook, on Twitter @BBCNewsEnts, or on Instagram at bbcnewsents. If you have a story suggestion email entertainment.news@bbc.co.uk.


[ad_2]

Source link