Image copyright Pacemaker Image caption Police said a large group of young people had been waiting to get into the disco Three teenagers have died after reports of a crush at a St Patrick's Day party at a hotel in Cookstown, County Tyrone. A 17-year-old girl and two boys aged 16 and 17 died after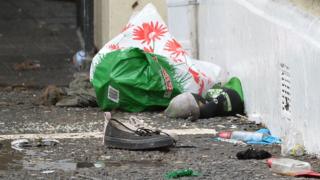 Three teenagers have died after reports of a crush at a St Patrick's Day party at a hotel in Cookstown, County Tyrone.
A 17-year-old girl and two boys aged 16 and 17 died after the incident outside the Greenvale Hotel on Sunday night.
A number of other teenagers have also been treated in hospital.
The police said a large group of young people had been waiting to get into a disco at about 21:30 GMT. One of the teenagers died at the scene.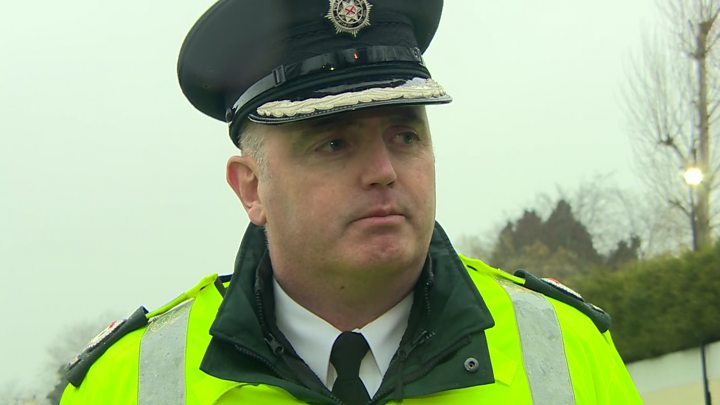 The 17-year-old girl who died was Lauren Bullock.
Her name was released by the principal of her school, St Patrick's College, Dungannon.
Principal Catherine McHugh described her as a "shining light".
The two boys were pupils of St Patrick's Academy in Dungannon. A prayer service is being held at the school.
'Struggling'
Police Service of Northern Ireland Assistant Chief Constable Mark Hamilton said: "Our preliminary investigations show there was a crush towards the front door of this hotel, and in that crush people seem to have fallen.
"There seemed to be a little bit of struggling going on to get people up off the ground and that might explain also why there was a report of some fighting."
He added: "It is heartbreaking that an event which should have been fun for these youngsters on St Patrick's night should end in such a terrible tragedy."
A teenage eye witness told the BBC people were "pushing and shoving each other, trying to get closer to the gates" of the Greenvale Hotel.
He said the disco is the most popular in the area and often attracts large crowds.
Another teenage eye witness, who did not wish to be named, told the Ulster Herald he was waiting outside the hotel when a "stampede" started.
"We were all outside waiting for the gate to open and get in," he told the paper. "Then everyone just started swaying back and forth and pushing from side to side.
"Suddenly there was a rush forward and the whole queue collapsed and everyone fell to the ground."
The teenager said he was pinned to the floor with other people on top of him and unable to move for 20 minutes, adding that there were more than 100 people involved in the queue crush.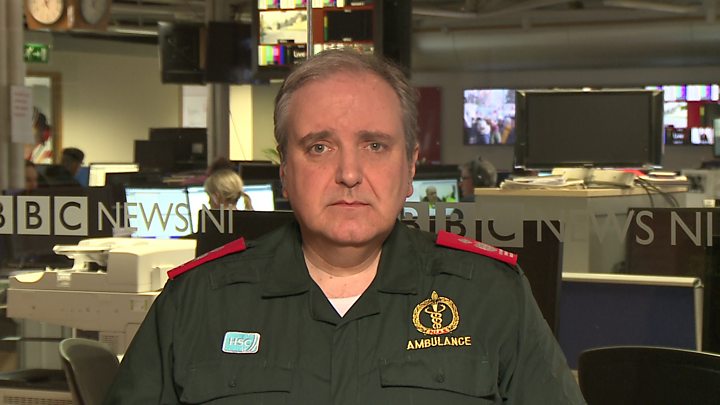 Northern Ireland Ambulance Service's Medical Director Dr Nigel Ruddell said: "Everything points towards it being a tragic accident."
"It was clearly a very distressing scene for all those who were caught up in the midst of it," he added.
At the scene: BBC News NI's Mark Simpson
The focus of the police investigation is on eyewitness accounts of what happened and CCTV footage from outside the hotel.
Although the CCTV images are dark, they do provide an indication of what went wrong.
Detectives are studying the footage frame by frame.
It appears the people who died sustained injuries in a crush as a large crowd waited outside the disco, hoping to get inside.
However, although there are images of people falling, police need to be sure that they are the teenagers who later died.
There are also reports of fighting briefly breaking out.
It is a complex investigation and detectives want more people who witnessed what happened to come forward.
The hotel was hosting a party for young people to celebrate St Patrick's Day.
Paramedics, doctors and five emergency crews were dispatched to the venue at about 21:30.
In a Facebook post at 22:27, the police asked parents to collect their children from the hotel immediately.
ACC Hamilton said the Northern Ireland Ambulance Service had received a 999 call on Sunday night with reports of people injured outside the hotel.
They declared it a major incident and police, the fire service and environmental health staff then also attended the scene.
"Police arrived within two minutes of the call from the ambulance service and quickly secured the scene," he said.
"We made an urgent appeal via social media to parents of the young people to come and collect them from a Friends and Family Centre which was established in the nearby Glenavon Hotel.
"Our investigation is at an early stage, and while the exact cause of the incident is still unknown, there are reports of a crush at the scene and initial enquiries indicate that a large group of young people were waiting to enter a disco.
"We also have reports of some fighting after the incident commenced and at least one person has reported that they were assaulted."
'Felt sick'
Mr Hamilton said police were continuing to interview people who were at the party to establish the full facts and appeal to anyone who witnessed what happened to contact police.
Police have asked people who were at the event and who have video and photographs not to publish them online but to upload them to the Major Incident Public Portal.
A representative of the nearby Glenavon Hotel said the PSNI borrowed its defibrillator.
Emma Heatherington, of Donaghmore, whose two sons, aged 17 and 18, had been at the event, said she "felt sick" when she saw the police appeal on Facebook.
"My two boys were there so I rang them, shaking, and thankfully got them both," she said.
"They said there was a huge crowd waiting to get into the venue and then a lot of commotion up near the front of the queue, then they said the emergency services arrived and they were all asked to leave.
"They came home very, very shaken with rumours that some people had died."
Mid-Ulster District Council said Books of Condolence will be opened in Cookstown, Dungannon and Magherafelt on Tuesday morning.
Sinn Féin deputy leader Michelle O'Neill has urged young people, including those under 18, to tell the police what happened in Cookstown.
"Today is about establishing the facts and making sure that police get to the bottom of it," she said.
DUP leader Arlene Foster said her "thoughts and prayers are with everyone impacted".
Were you at the hotel? Have you been personally affected by what happened? Share your experiences by emailing haveyoursay@bbc.co.uk.
Please include a contact number if you are willing to speak to a BBC journalist. You can also contact us in the following ways:


[ad_2]

Source link