Image copyright Reuters Image caption People from two different households are now allowed to meet up outside, but must stay two metres apart People in Scotland are now able to meet friends and family again as the country begins to ease its lockdown after 66 days. The new rules mean that people from two households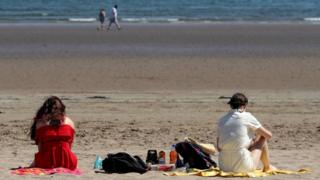 People in Scotland are now able to meet friends and family again as the country begins to ease its lockdown after 66 days.
The new rules mean that people from two households can meet outside so long as they keep at least two metres apart.
Groups of no more than eight should meet at a time, and you should not go into anyone else's house.
At her daily media briefing, First Minister Nicola Sturgeon called for "caution" as the new rules take effect.
She also stressed that people should still stay at home as much as possible.
"I expect these changes will bring a real improvement to the quality of our lives. But they are deliberately, and by necessity, cautious changes," she said.
"If too many of us change our behaviour a bit more than they allow, we could see the virus spread quickly again and that would take us back to square one."
Scotland has been in lockdown since 23 March, and did not make major changes to restrictions when they were introduced in England earlier this month.
But on Friday, the country entered the first phase of the Scottish government's four-phase "route map" for restarting society while attempting to suppress the virus.
The first minister said the consequences of going beyond the new guidelines would not just be measured in terms of lockdown, "but also in terms of lost lives".
"I'm not trying to cramp anyone's fun this weekend," she said.
"I really do want everyone to enjoy these changes, because all of you have more than earned it. But I am asking you to please do so responsibly."
And she added: "If you are in doubt about whether your plans are within the rules or not, err on the side of caution.
"However harsh these rules might feel right now, and I know that they do, abiding by them will never, ever be as harsh as grieving the loss of a loved one."
The changes in Scotland come as the UK government announced that groups of six people from different households will be able to meet outside in England from Monday.
Similar measures have been announced for Wales – although people from two households will be able to meet in groups of any size, so long as they stay local.
Meanwhile, outdoor weddings with 10 people present may be allowed in Northern Ireland from 8 June.
What can you now do in Scotland?
People can meet residents of one other household at a time – as long as meetings are kept to a maximum of eight people and they are outside in areas like a park or a private garden.
People will also be able to take part in some non-contact sports, including golf, tennis, fishing and bowls, and councils are due to reopen their recycling centres from Monday.
Sunbathing in parks and open areas is now allowed, as is travelling locally for recreation – although the Scottish government's "strong advice" is they should not go further than five miles (8km).
Most outdoor work that has been put on hold can resume, garden centres can reopen and site preparation can begin in the construction industry.
From Monday, teachers and other staff will be able to return to schools to prepare for re-opening – although most pupils will not return until 11 August.
What's happening elsewhere in the UK?
On Thursday evening, Prime Minister Boris Johnson provided some more details of the changes planned in England – saying that the UK government's thinking was based on the scientific belief that transmission is far less likely to happen outdoors.
For that reason, he said people could hold gatherings of up to six people from different households in their gardens from Monday and could even host barbecues, providing they maintained social distancing and took extra care with regular hand-washing when preparing and sharing out food.
In Wales, people from two households will be allowed to meet outdoors from next week – but they will be asked to "stay local" when planning such meetings.
Wales' First Minister Mark Drakeford told BBC Radio 4's Today programme that the rate of infection was falling "slower than we had hoped" – so Wales had "only limited headroom" to make changes.
In Northern Ireland, "groups of four to six people who do not share a household can meet outdoors maintaining social distancing".
From 8 June, car showrooms and shops in retails parks are expected to be given the green light to begin trading again.
The route map for easing lockdown
The Scottish government has identified four phases for easing the restrictions:
Phase 1: Virus not yet contained but cases are falling. From 28 May you should be able to meet another household outside in small numbers. Sunbathing is allowed, along with some outdoor activities like golf and fishing. Garden centres and drive-through takeaways can reopen, some outdoor work can resume, and childminding services can begin.
Phase 2: Virus controlled. You can meet larger groups outdoors, and meet another household indoors. Construction, factories, warehouses, laboratories and small shops can resume work. Playgrounds and sports courts can reopen, and professional sport can begin again.
Phase 3: Virus suppressed. You can meet people from more than one household indoors. Non-essential offices would reopen, along with gyms, museums, libraries, cinemas, larger shops, pubs, restaurants, hairdressers and dentists. Live events could take place with restricted numbers and physical distancing restrictions. Schools should reopen from 11 August.
Phase 4: Virus no longer a significant threat. University and college campuses can reopen in full, mass gatherings are allowed. All workplaces open and public transport is back at full capacity.
Ms Sturgeon also announced an extra £20m to help the manufacturing industry in Scotland.
She said the funding for Scotland's new National Manufacturing Institute would bring the government's total investment to £75m.
The first minister also said 12 new projects would receive £15.3m of funding to help boost small and medium-sized businesses.
She added that most of the sector would have to remain closed during phase one of easing the lockdown, but that companies would be allowed to prepare for a return to business in phase two.
---
What would you like to know about lockdown easing? Send us your questions and a BBC journalist will investigate the most popular.
Use this form to ask your question:
If you are reading this page on the BBC News app, you will need to visit the mobile version of the BBC website to submit your question on this topic.
[ad_2]

Source link