Who'da thunk it? 3 out of 10 for repairability, must try harder Galaxy S10 and S10e (credit: iFixit) While many spend their first few hours with a new phone setting it up, teardown crew iFixit prefers to rip 'em apart. Their latest victim? The Samsung Galaxy S10. The specs for Sammy's latest and greatest may
Who'da thunk it? 3 out of 10 for repairability, must try harder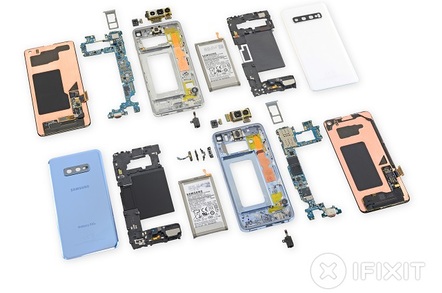 Galaxy S10 and S10e (credit: iFixit)
While many spend their first few hours with a new phone setting it up, teardown crew iFixit prefers to rip 'em apart. Their latest victim? The Samsung Galaxy S10.
The specs for Sammy's latest and greatest may have leaked ahead of its debut at Mobile World Congress, but the contents of the notch-less wonder remained unknown. Until now.
Last year's Galaxy S9 scored 4 out of 10 for repairability, with the screwdriver twiddlers complaining about glued-down glass and the amount of disassembly required to fix screens. With Samsung's S10 flagship now featuring an ultrasonic fingerprint sensor beneath the glass, it wasn't looking likely that the score would improve.
Things started out well. The S10 has famously moved the fingerprint sensor from the back to beneath the screen while the S10e has added a conventional capacitive fingerprint sensor to the larger power button. Thus the gang was able to pop the back panels off with relative ease, revealing heat-dissipating graphite pads.
The last point proved significant as the iFixit crew probed further, removing the midframe assembly replete with integrated coils. The new Samsungs can not only charge wirelessly, but they can wirelessly charge other devices. Such crowd-pleasing tech is neat, but pumps out waste energy in the form of heat, hence the amount of graphite this time around.
After all, Samsung gets a little sensitive when it comes to excessive heat.
Following removal of the modular headphone jack, still a feature of Samsung's phone, the gang were able to extract the motherboard which, alas, includes the USB-C port. That, sadly, is no longer a modular item.
The double-sided motherboard features 128GB of Toshiba UFS NAND for the S10e and 512 GB of UFS NAND for the S10. Samsung RAM is layered over the Qualcomm Snapdragon 855 SoC. Qualcomm also supplies audio and RF chippery with NXP taking NFC duties.
The wheels began to come off as iFixit struggled through serious adhesive to extract the batteries (11.94Wh for the S10e and 13.09Wh for the S10). Things got worse with the screen.
The innovative touch sensor of the S10 proved impossible to extract from the screen, leading the gang to conclude that should the sensor break, the user is going to have to fork out for a new display. The S10e has a more conventional sensor on the power button but getting to it still requires removal of the screen.
The alarming process left the crew commenting: "We doubt either of these displays will live to play another game of Fortnite."
Overall, while the phones represent some impressive engineering, the amount of adhesive required for those bigger batteries is worrying and replacing the screens (required on the S10 if the sensor malfunctions) is going to be pricey. The team also worried about the long-term implications for the battery caused by the heat of wireless charging.
With all that in mind, the score for this year's S10 drops to 3 out of 10. A far cry from the 6 out of 10 awarded to Apple's iPhone XS. ®
[ad_2]

Source link