Here comes Ahuja again… BOING! …and he's out of there Tesla introduces the revolutionary 'CFO seat' SpaceX supremo Elon Musk has announced that the company is about to fire up the latest iteration of the engine destined for its huge boosters. Musk helpfully included an image of the power plant with a human in the
Here comes Ahuja again… BOING! …and he's out of there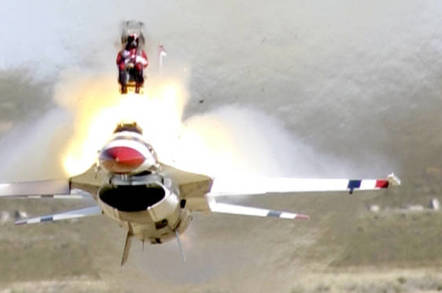 Tesla introduces the revolutionary 'CFO seat'
SpaceX supremo Elon Musk has announced that the company is about to fire up the latest iteration of the engine destined for its huge boosters.
Musk helpfully included an image of the power plant with a human in the background to give an idea of size.
Preparing to fire the Starship Raptor engine at @SpaceX Texas pic.twitter.com/8JCOi1BG6z

— Elon Musk (@elonmusk) February 1, 2019
While the Falcon 9 enjoys nine of the (comparatively) diminutive Merlin engines, the monster Starship will be powered by just seven Raptors. Musk also reiterated the 200 metric tons (440,925 lbf) of thrust SpaceX is aiming for at first, followed by higher thrust versions optimised for sea level and vacuum firings.
That sounds impressive when put up against the company's trusty Merlin 1D, which puts out around 90 metric tons of thrust (190,000 lbf) and is in turn dwarfed by the F-1 engines used in NASA's Saturn V, which generated nearly 690 metric tons of thrust (1.522 million lbf) at sea level. Admittedly, the F-1 lacked the reusability planned for the Raptor and does not enjoy the thrust-to-weight ratio of the sporty little Merlin. It also physically towers over Starship's power plant.
The engine compares favourably with NASA's RS-25, Space Shuttle main engine, which generated about 170 metric tons of thrust (375,000 lbf) at sea level and was also reusable. While four of the beasts will power NASA's own monster Space Launch System rocket (along with two solid boosters), reusability will no longer be a concern. The US space agency plans to dump them in the sea, Saturn V style.
By standardising on the engine across ship and booster, Musk hopes to get to the Moon quicker rather than spend additional years on the ground while his paying customer twiddles his thumbs.
Tesla makes a profit but loses its CFO. Again
Hopefully Musk is a little less confused on the figures for the Raptor than he was on this week's earnings call. With the company's profits not quite what analysts had hoped for (but heck – this is Tesla so any profit has got to be good after years of burning cash, right?), Musk dropped the bombshell that Tesla CFO Deepak Ahuja would be retiring after two years in post. Well, he said Ahuja had an announcement to make and then told reporters anyway.
Former Ford exec Ahuja had previously spent five years with Tesla before retiring in 2015. Musk brought him back in 2017.
As for Ahuja's replacement, Musk has lined up Zach Kirkhorn, who spent some time working at Tesla as an undergraduate before getting his MBA at Harvard Business School. A qualification that Musk cheerfully pointed out he didn't "think was necessary, by the way". Kirkhorn replied: "You told me that when I came back."
That MBA will come in handy as Kirkhorn deals with a boss who in the same call explained that: "The demand for Model 3 is insanely high. The inhibitor is affordability. It's just like people literally don't have the money to buy the car," and that the company was holding off leasing options for the Model 3 due to the impact on GAAP financials.
Kirkhorn has youth on his side, having graduated in 2006 and rejoined Tesla in 2010 as a finance analyst. However, with less than two months as VP of Finance under his belt before his elevation to Tesla CFO, he has a worrying lack of experience. ®


[ad_2]

Source link