Image copyright Reuters Image caption Theresa May leaving Downing Street for Northern Ireland on Tuesday Theresa May will try to reassure people in Northern Ireland that she can secure a Brexit deal that avoids a hard border with Ireland during a visit later. In a speech to business leaders, the prime minister will pledge to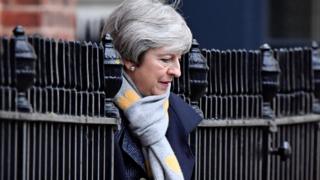 Theresa May will try to reassure people in Northern Ireland that she can secure a Brexit deal that avoids a hard border with Ireland during a visit later.
In a speech to business leaders, the prime minister will pledge to secure a deal with the EU that "commands broad support" and a majority in parliament.
The DUP leader, Arlene Foster, said the "toxic backstop" remained the problem.
Brussels was "unfortunately turning their face against that" and needed respect for unionism in NI, she added.
Mrs Foster spoke out as the European Commission confirmed the prime minister will visit Brussels on Thursday for talks with its president Jean-Claude Juncker.
This follows a visit by Taoiseach (Irish Prime Minister) Leo Varadkar on Wednesday.
"We have heard a lot about their understanding of the Belfast Agreement, that they don't want a hard border on the island of Ireland," Mrs Foster told the BBC's Good Morning Ulster programme.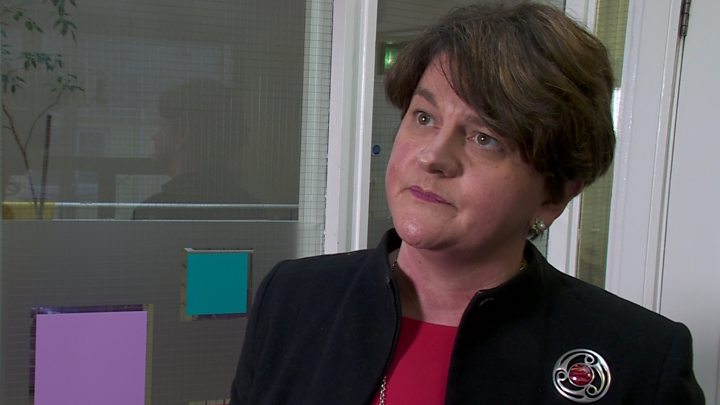 "But they are quite content, apparently, to build a hard border between Northern Ireland and the rest of the United Kingdom, thereby interfering with the constitutional position of the United Kingdom."
The backstop is an insurance policy designed to avoid a hard border "under all circumstances" between Northern Ireland and the Irish Republic after Brexit.
The UK is due to leave the EU at 23:00 GMT on Friday 29 March, when the two-year time limit on withdrawal negotiations enforced by the Article 50 process expires.
Where are we with the backstop?
In January, MPs overwhelmingly rejected the withdrawal deal that the government had negotiated with the EU.
Yet European Union leaders have continued to rule out making changes to the withdrawal deal as agreed.
The prime minister is expected to say in her speech that she will find a way to deliver Brexit that honours "commitments to Northern Ireland" and "secures a majority" in Parliament.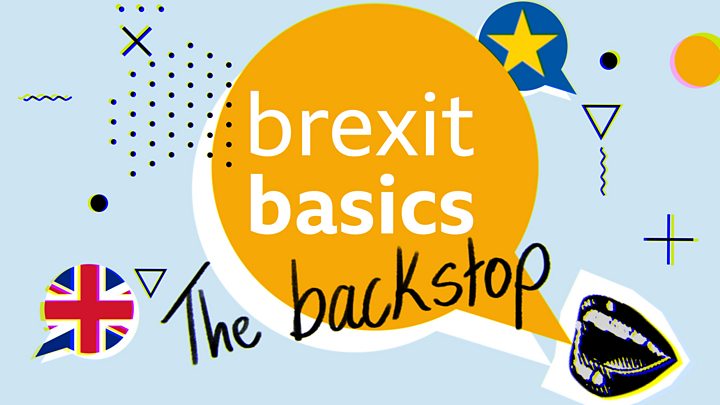 Mrs Foster said Parliament had spoken and the current backstop had been rejected.
But the EU's chief negotiator, Michel Barnier, said there was "full agreement" that the withdrawal agreement "cannot be reopened".
On Monday, German Chancellor Angela Merkel said the EU would listen to proposals to solve the Irish border "riddle", although they needed to hear how the UK wanted to do it.
Tánaiste (Irish deputy prime minister) Simon Coveney said the withdrawal agreement rejected by MPs already allowed the EU and UK to work on alternative arrangements for the backstop.
"What Ireland is being asked to do by some in Westminster is to essentially do away with an agreed solution between the UK government and EU negotiators and to replace it with wishful thinking," he said.
DUP Brexit spokesperson Sammy Wilson said his party would not support any legal "codicil" to the withdrawal deal and the prime minister would be "very foolish to go down that road".
Sinn Féin Brexit spokesperson Chris Hazzard said he did not think the prime minister had "any credibility at all".
"We're dealing here with somebody here who, for the last number of months, has been trying to sell the withdrawal agreement, has been talking up the very need for the backstop when it comes to Ireland and yet, at the whim of Parliament has turned that on its head," he said.
Analysis: A most extraordinary volte-face
By Jayne McCormack, BBC News NI Political Reporter
In November, Theresa May was in Northern Ireland as part of her tour selling her Brexit deal.
It is somewhat of a surprise that she is now returning to Belfast months later, seeking to get the withdrawal agreement re-opened.
It seems an extraordinary volte-face from a prime minister who is often described as stubborn and difficult.
While all the arguments about alternative arrangements to the backstop swirl around, the UK government insists it is still committed to avoiding a hard Irish border.
But the detail from Mrs May so far remains thin.
All that her speech this afternoon may succeed in doing is uniting her various critics against her.
Is the Good Friday Agreement going to the courts?
Lord Trimble, a joint recipient of the Nobel Peace Prize in 1998 for his role in the Good Friday Agreement, said he was "exploring" the possibility of a legal challenge over claims the PM's Brexit deal breaches the historic peace agreement between the Republic of Ireland and Northern Ireland.
Mrs May's deal "turns the Belfast Agreement on its head and does serious damage to it", he told BBC Radio 4's Today programme.
He added: "Both the British and Irish governments undertook to support the agreement and what they've done, both of them, is broken that promise."
Asked what the likelihood is of him launching the legal challenge was, Lord Trimble said: "If it reminds people to keep their promises, it'll be a good thing."
What 'alternative arrangements' are there to the backstop?
Alternatives to the backstop that the prime minister has said she wants to discuss with EU leaders include:
a "trusted trader" scheme to avoid physical checks on goods flowing through the border
"mutual recognition" of rules with the EU
"technological" solutions
Theresa May has said she is "determined" to deliver Brexit on time, but a number of cabinet ministers have indicated they would be willing to agree to a short extension to finalise legislation for Brexit.
However, a plan to delay Brexit for up to nine months to prevent a no deal – put forward by Labour MP Yvette Cooper – was voted down by Parliament.
Will the PM say anything about devolution?
While in Northern Ireland, Mrs May will also call for steps to move towards the restoration of devolution so that Northern Ireland's politicians "can get back to work on the issues that matter to the people they represent".
Northern Ireland has been without its executive at Stormont since January 2017.
Mrs May will say: "The measure of this moment in Northern Ireland's history must be more than whether we avoid a return to the challenges of the past.
"It must be how, together, we move forwards to shape the opportunities of the future."
She is expected to stay in Northern Ireland overnight and meet the five main political parties at Stormont on Wednesday morning.
[ad_2]

Source link