The Independent employs reporters around the world to bring you truly independent journalism. To support us, please consider a contribution. Donald Trump announced on Wednesday he will "surge" federal law enforcement officers to Chicago "immediately" to quell violence there, building on a similar force already operating under legally questionable orders in Portland. Democratic lawmakers have accused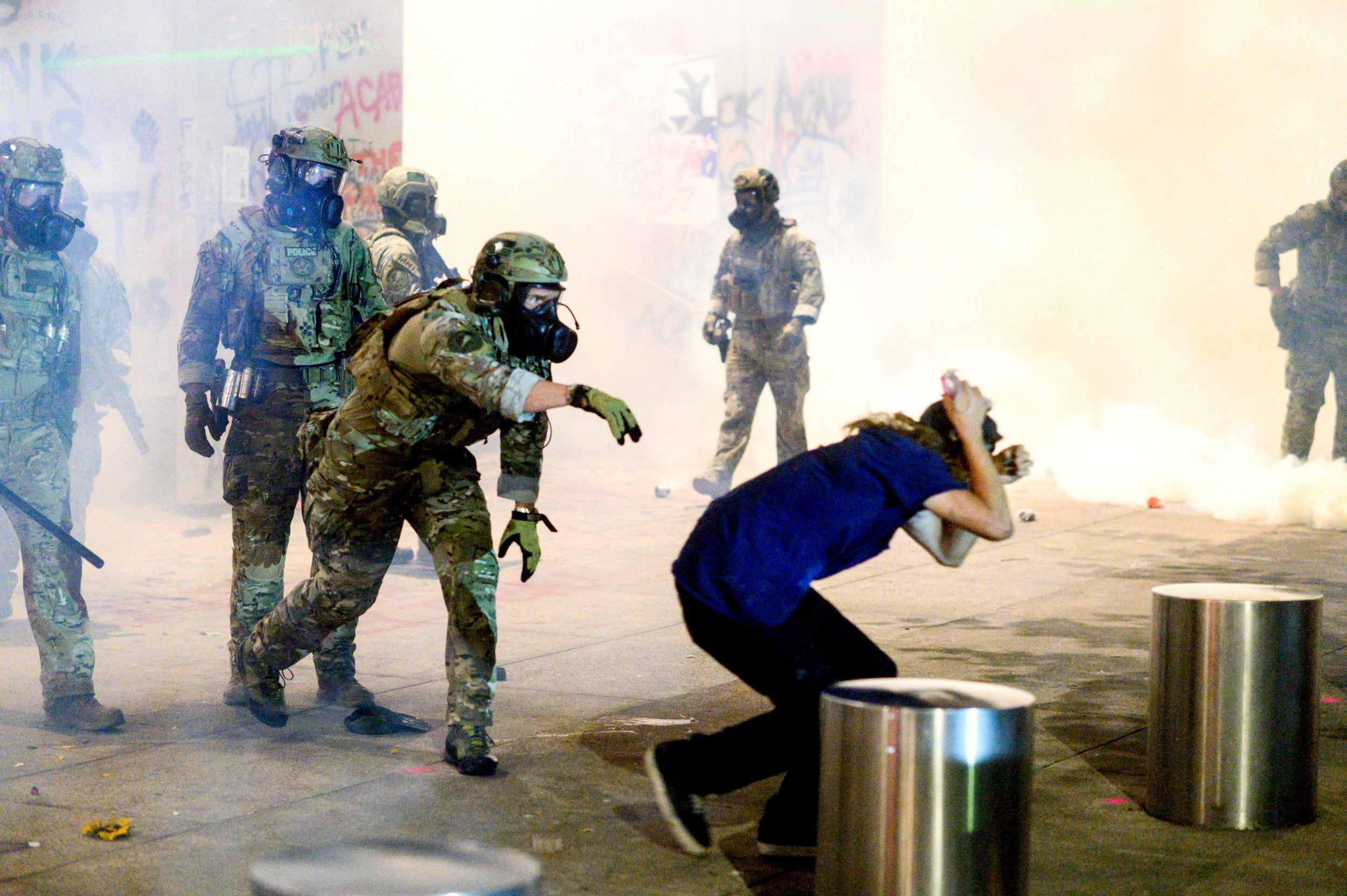 Donald Trump announced on Wednesday he will "surge" federal law enforcement officers to Chicago "immediately" to quell violence there, building on a similar force already operating under legally questionable orders in Portland.
Democratic lawmakers have accused the president of using the federal police deployments as a campaign tactic. Part of his sales pitch for a second term, despite trailing former Vice President Joe Biden nationally and in most key swing states, is that he is a "law-and-order president." But majorities of American voters, according to multiple polls taken in recent weeks, oppose Mr Trump's response to violence across the country, a large portion of which is linked to the killing of George Floyd and other black people by white police officers.
The FBI, ATF, Drug Enforcement Agency, US Marshall's Service and Department of Homeland Security will send "hundreds" of what he called "very skilled" officers to Chicago "immediately," he said during an East Room ceremony.
The president said violent protesters in Chicago and other cities are breaking "multiple federal laws," and he expects the federal police forces to make many arrests.
Amid reports Kansas City is next, the president said additional deployments to other cities are coming soon. Specifically, he pointed to Albuquerque, New Mexico.
He accused Democratic officials at the local, state and national level of trying to defund the police and catering to violent undocumented immigrants as the announcement event turned into yet another campaign event.
"Opportunity cannot thrive where there is violence," he said. "Security cannot exist where there are violent criminals."
Attorney General William Barr, who spoke after the president, added Kansas City to the list, saying others will be added to the list "in the weeks ahead."
Mr Barr said recent violence is directly related to an "attack" on police, presumably the "defund the police" slogan pushed by black activists and some Democratic lawmakers.
When that slogan went viral earlier this year, many House and some Senate Democrats repeated it publicly. But they quickly were forced to scramble and explain they meant not to completely strip monies from police departments, but they wanted to transfer some of their funding to other social programmes.
'Rampage of violence'
"This rampage of violence … shocks our nation. … We will not stand by and watch it," he added, criticising Democratic leaders
"Shocking explosion of … murders … and heinous crimes," Mr Trump said in the East Room of the White House, vowing to "bring violent perpetrators to justice."
"We just started this process and, frankly, we have no choice but to get involved," he added, vowing to make "every city" safe.
"We will bring that safety. You will see," he said.
He singled out Chicago, saying so many people have been shot there — including 23 on Tuesday — that recent crime numbers there "are not too be believed. "Over Father's Day weekend, 104 people were shot and 15 were killed, including five young children."
"It's just so sad to see … how these lives have been just torn apart," the president said, reading slowly and somberly from a TelePrompter, appearing to ad-lib a bit.
'Like a bulldozer'
The new deployments, expected to be carried out by federal officers under the wing of the Department of Justice, follow a controversial one to the Oregon city.
"We had a contained [situation], we were using our deescalation strategies. We were engaged in limited arrests of people who were engaged in illegal activity, that's modern policing. And then these guys came in like a bulldozer," Portland Mayor Ted Wheeler said. "And what it did was re-energized Portlanders, it brought people back into the streets."
Mr Wheeler and other Oregon Democrats are accusing the president of using the deployment there to help his bid for a second term. He has lost ground with suburban and older voters; Democrats claim he is trying to win back security-minded voters in a handful of battleground states experts say will decide the election on 3 November.
Legal experts and Democratic officials are questioning the legality of the deployments, saying they raise a raft of questions – though there is no serious push on Capitol Hill to try limiting or stopping them. Senior lawmakers are focused on trying to broker another coronavirus recovery deal.
One expert said some aspects of the federal police operations likely are legal, while others may not be.
"There's definitely reason to be alarmed about what's going on in Portland. And even if the federal officers are technically complying with the relevant statutes, there's something more than just unseemly about camouflaged officers who refuse to identify themselves or their employer purporting to conduct arrests on the streets of American cities," according to Steve Vladeck, a professor at the University of Texas School of Law. "Whether these officers are in fact abusing their authorities or not remains to be seen, but either answer would be deeply troubling."
[ad_2]

Source link