Image copyright Andrew Matthews/PA Wire Image caption This was the scene for drivers on Ringway West in Basingstoke on Friday evening Travel by road, rail and air has been disrupted by snow and ice, with weather warnings issued for Friday and overnight. The Met Office yellow warnings for snow and ice cover several areas of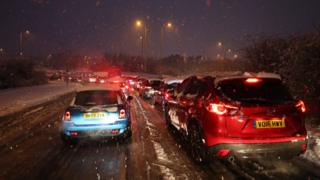 Travel by road, rail and air has been disrupted by snow and ice, with weather warnings issued for Friday and overnight.
The Met Office yellow warnings for snow and ice cover several areas of the UK, while a separate warning for ice is in place for southern England.
"Treacherous driving conditions" are hampering some southern areas, it says.
Highways England says delays have hit the M3, A303 and A34 in Hampshire and Wiltshire.
Snow at a depth of 19cm (7.5in) was recorded at RAF Odiham in Hampshire, the Met Office said.
Hundreds of schools across Wales and southern parts of England were closed for the day due to the conditions.
At Bristol Airport most of the day's flights were cancelled.
The airport advised passengers to check flight information with their airline but said they expected a normal service on Saturday.
London City Airport also cancelled or diverted several flights on Friday evening because of a heavy snowfall.
Highways England said there was only one lane open from junction 6 to junction 7 on the M3 westbound near Basingstoke, due to three stranded HGVs.
It said work was under way to recover those vehicles and clear the snow, with Hampshire Police co-ordinating traffic in single file through the clearance work. It warned that surrounding roads were also "treacherous".
Ian Crowder was stuck on the A339 for several hours as he travelled home from his last day working for the AA in Basingstoke.
"It's very picturesque, I'm sure, but being here in the traffic, stationary for nearly five hours now, is not a huge amount of fun," he said.
"The traffic is beginning to move again. The snow seems to be gathering pace but it looks as if we might be on our way very soon."
Basingstoke and North Hampshire Hospital made an appeal for nursing staff within walking distance to help, as it faced staffing issues due to the gridlock.
Drivers in Surrey and Kent also face delays, with the A31, A3 and A21 among the major roads affected.
Salt-spreaders covered 80,000 miles of England's motorways and major A roads through Thursday night to keep traffic moving, Highways England said.
Flight disruption at airports in Cardiff and Bristol affected rugby fans heading to Paris ahead of Friday's France v Wales Six Nations opener, with ex-Wales captain Sam Warburton among those caught up in the chaos.
On the trains, Transport for Wales said services were now running as normal after some disruption in the morning, while Great Western Railway – which earlier warned of disruption until 12:00 – said a near-normal service had resumed.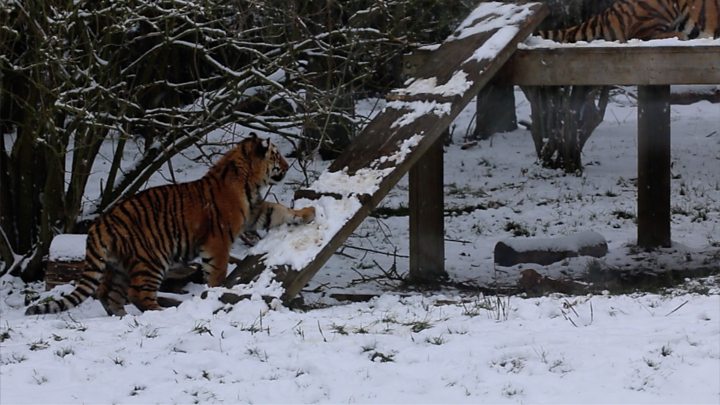 Some Eurostar services were also cancelled on Friday.
The match between Port Vale and Tranmere Rovers was the first of the weekend's English League fixtures to be postponed because of a frozen pitch, while five Scottish League One and Two matches were also postponed.
Several of Saturday's matches will be subject to pitch inspections in the morning but fans heading for matches can check for the latest updates on postponements on the BBC Sport website.
In Bath the Corridor shopping centre was closed on Friday after two separate roof collapses due to snow.
The weather meant few shoppers were around and no-one hurt.
In East Ham, east London, a baby girl was found abandoned in a shopping bag in park in near-freezing temperatures on Thursday evening.
Ovidijus Zvaliauskas found the baby with his mother, who was walking her dog.
He told BBC News it was so cold the baby had frost on her head. "There's no words for it. It's terrible," he said.
The newborn girl was taken to hospital and is said to be in a stable condition. Medical staff have been calling her Roman, as the play area she was found was situated just off Roman Road.
South-west England was worst affected on Thursday night, with snow depths of 12cm (5in) recorded in Bodmin, the Met Office said.
Parts of Cumbria saw 8cm of snow, while there was 7cm recorded in Inverness-shire and 5cm in Powys.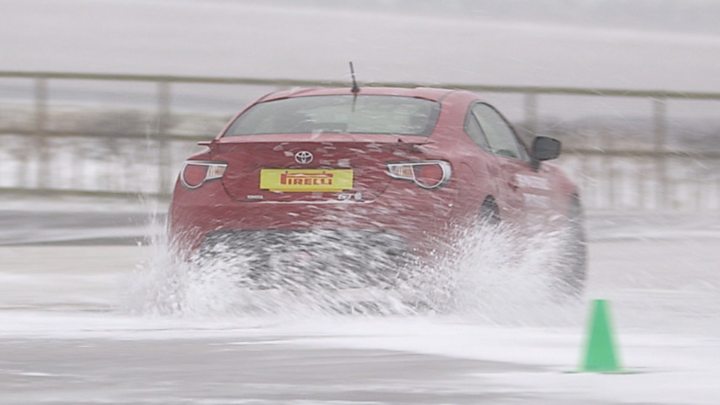 Temperatures fell to their lowest level this winter, with Braemar, Aberdeenshire, dropping to -15.4C (6F) in the early hours of Friday.
This is the lowest in the UK since 2012 – when temperatures fell to -15.6C in Holbeach, Lincolnshire.
The cold start to the day saw hundreds of school closures in different parts of the UK. More than 500 schools were shut in Wales, with about 200 in Berkshire, 250 in Wiltshire and 300 in Buckinghamshire also closed.
What's the forecast?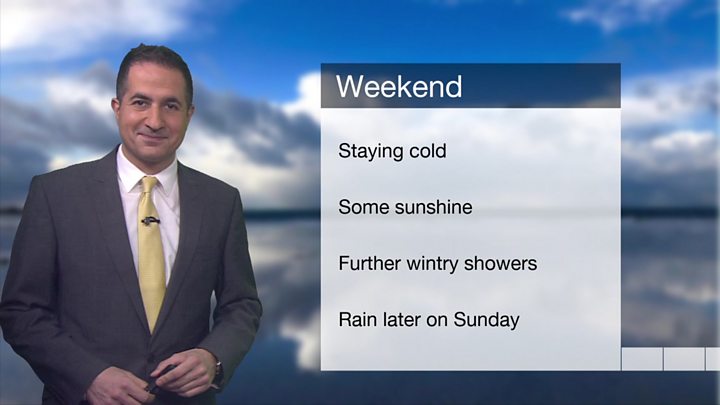 BBC weather presenter Stav Danaos said travel disruption is likely throughout Friday night and into Saturday due to lying snow and ice.
It will remain cold on Saturday but wintry showers will become increasingly confined to the eastern coast of the UK, leaving some spells of sunshine.
What warnings are in place?
There are yellow warnings for snow and ice covering northern Scotland, most of Northern Ireland, the eastern coast of England and the west coast of Wales until 12:00 GMT on Saturday.
They warn of some snow showers, with heavier accumulations of up to 5cm possible in northern Scotland and up to 10cm over higher ground.
There is also a yellow warning for snow, covering parts of south-east England, between 16:00 GMT and midnight on Friday, with accumulations of 2-3cm likely and up to 7cm possible over higher ground.
A separate warning for ice is in place for southern England until 11:00 GMT on Saturday, as Friday's snow gradually eases during the evening.
Yellow warnings are issued for low level impacts including some disruption to travel. People should check the latest forecast and check how they might be impacted.
You can read the Met Office guide to its warnings here or watch our handy breakdown.
This temperature comparison tool uses three hourly forecast figures. For more detailed hourly UK forecasts go to BBC Weather.
If you can't see the calculator, tap here.
How have you been affected by the bad weather? Tell us your story by emailing haveyoursay@bbc.co.uk.
Please include a contact number if you are willing to speak to a BBC journalist. You can also contact us in the following ways:


[ad_2]

Source link